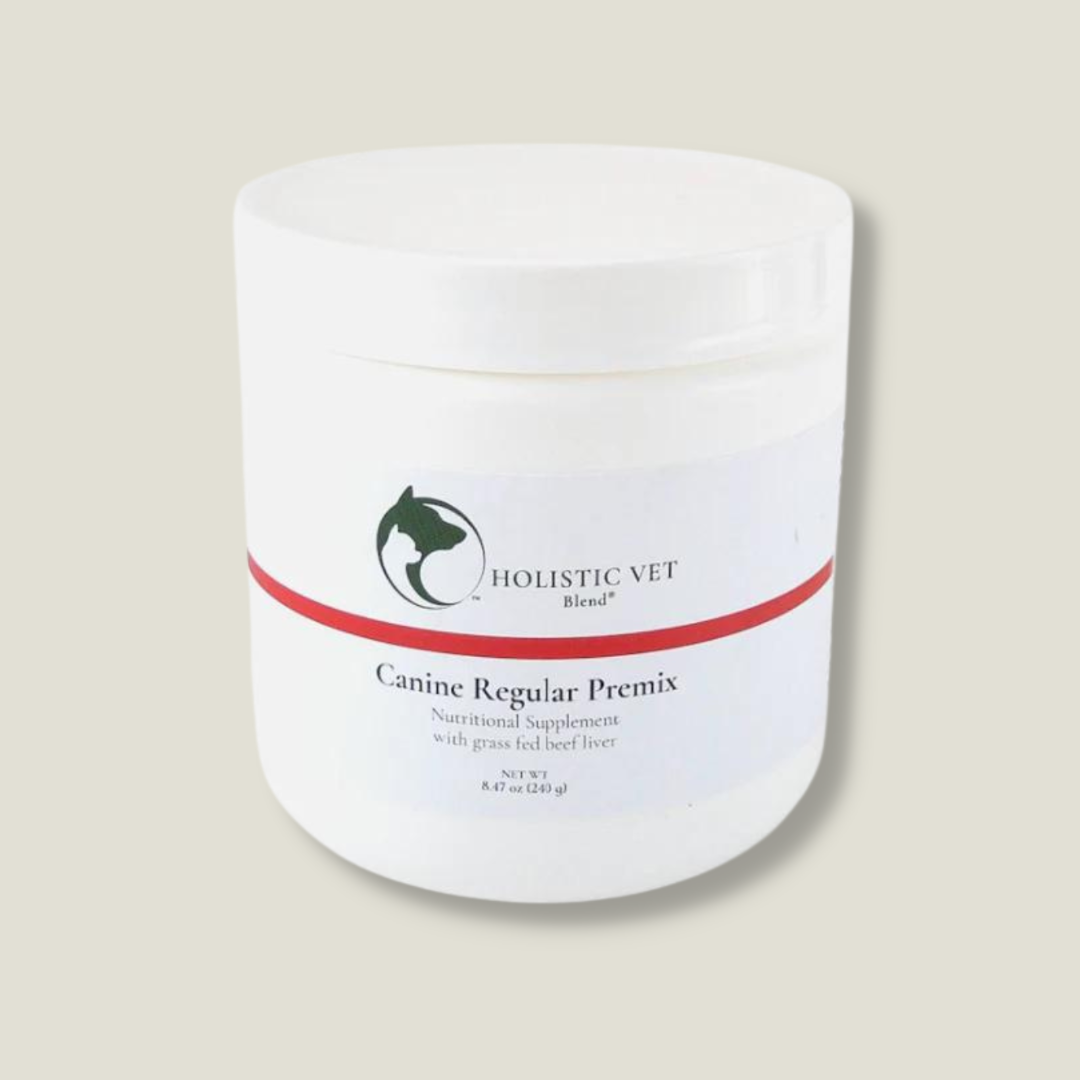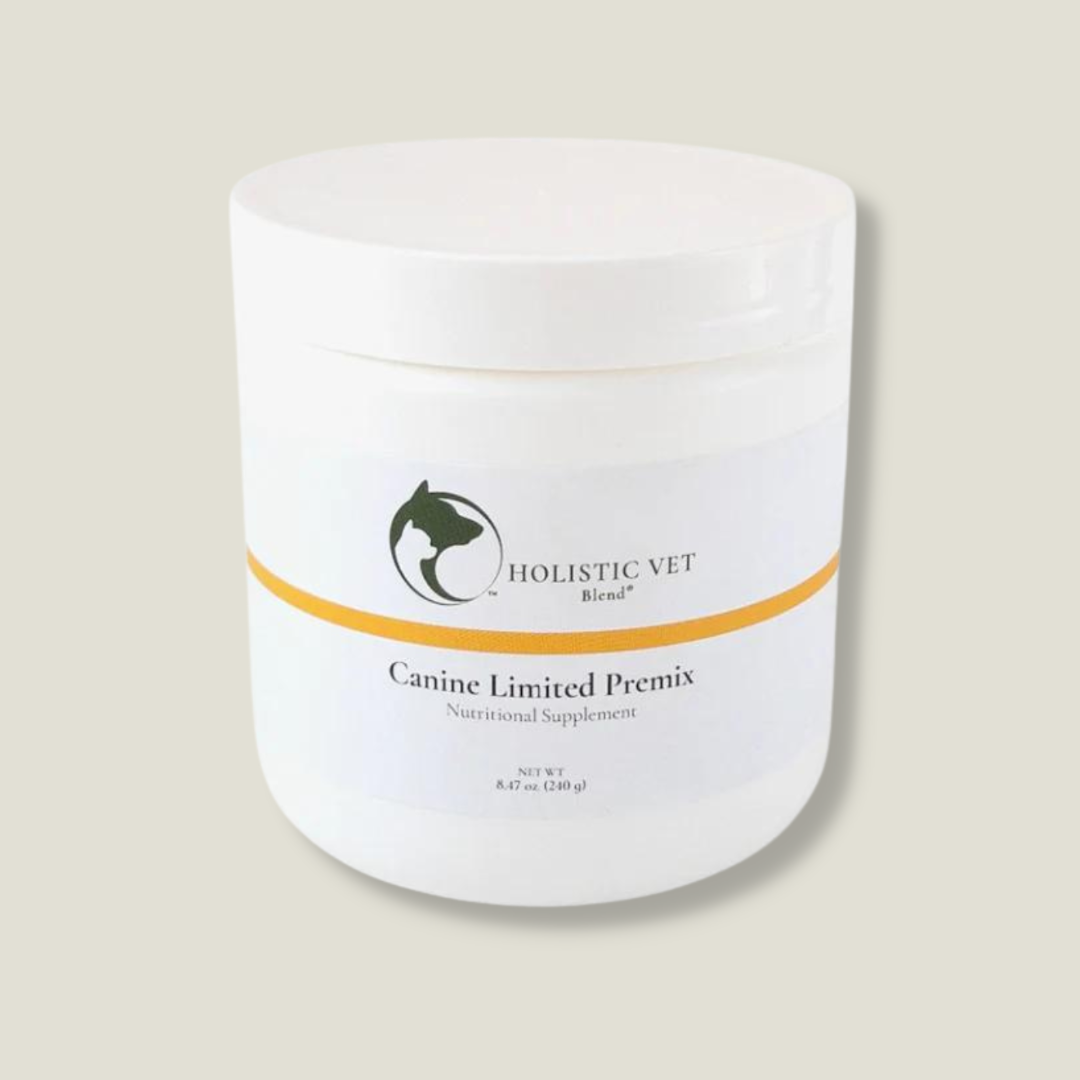 Canine Premix - Dog Supplements for Homemade Food
Did you know that almost all dehydrated sweet potato found in dog food comes from China? The dehydration process is also an unnecessary use of energy and ultimately removes the nutritional value of most fruits and vegetables. And those plastic feed bags are NOT recyclable and are just so wasteful. The good news is that you can easily add human-grade ingredients to your dog's homemade diet without it being overly complicated or overly expensive.

Try home cooked dog food! Consider a supplement to balance homemade dog food to be sure your dog is getting ALL the necessary nutrients. Source and cook your ingredients and add this dog supplement for homemade food made by holistic veterinarian Dr. Dody Tyneway Robidog DVM. You will be in control of choosing quality ingredients whether its organic, home grown, local, what's in season or on sale at the market. Finally, you're in charge of what goes into your pet's food! This premix contains the best supplements to add to homemade dog food.
If your dog has a sensitive stomach or allergies, we recommend the Limited formula.
Features
Made in the USA.

Vet approved dog supplements for homemade food.

Provides necessary nutrients for a homecooked diet.
Made with human grade ingredients.
Homemade dog food recipes for meals prepared in large batches emailed with purchase.
8.47oz
Looking for your cat too? We have a Feline Premix! 
Recipe Guides
Simply prepare a batch of food using the recipe guides below and then add the supplement. You can store the batches in the fridge or freezer or until you're ready to feed them to you pet. Here are the recipe guides, which will also be emailed to you after purchase:

Canine Regular with Liver
My dog is on a limited diet or has X illness, will this be right for my dog's diet?

There is not a single diet that is right for all pets. This is the best supplement for homemade dog food indicated for maintenance and regular diets. It is not made specifically for any health ailments.

My dog has allergies to X. Can I use this supplement in my dog's food?

The home cooking guide you'll receive after ordering, offers many variations of proteins and vegetables that can be used. Verify the allergens are not present in the supplement itself, then modify the home cooking to accommodate your pet's allergies. We recommend the Limited formula for dogs with allergies.

Can I prepare a single meal at a time with this supplement?

No, these homemade dog food supplements are prepared by a veterinarian specifically for cooking in large quantities and will only be nutritionally balanced when used with the recipe guide you'll receive in an email after your order is placed.

Please contact us with any specific questions.
Holistic Vet Blend® Canine Limited Blend can be added to a recipes provided by Dr. Dody in an email after purchase. However, here is an idea of a recipe that has 5 basic ingredients:

- 3 pounds ground meat (turkey, chicken, beef, venison, lamb, pork, fish) at least 83% lean
- 2 tablespoons coconut oil
- 1 pound diced carrots
- 4 ounces of a green leafy vegetable: kale, spinach or broccoli
- 5 cups of a carbohydrate energy source: brown rice, white rice, rolled oats, quinoa, sweet potato, russet potato, elbow pasta (regular or gluten free)

You can cook each of the items separately. For example you could cook the rice in a rice cooker or on the stove top, bake or steam the potatoes, or cook the quinoa with broth or water. Combine all items and add the premix after cooking.

This recipe is easily prepared with all 5 ingredients added to a 6 quart pressure cooker (Holistic Vet Blend® Regular Blend has more vegetables and fits better in an 8 quart pressure cooker) and the premix added after the cooking process. The recipe can be kept for 4 days in the refrigerator and the rest frozen in servings for future feeding.
Calcium carbonate - Calcium source
Dicalcium phosphate - Calcium, phosphorus source
Psyllium Husk powder - Soluble fiber source
Saccharomyces cervisae - Source of B vitamins & probiotics
Choline chloride - B vitamin for metabolism and nervous system health
Zinc sulfate - Essential mineral
Kelp - Iodine source
Ginger - Antioxidant and palatant
Vitamin E - Antioxidant
L- Taurine - Amino acid important for cardiac health and metabolism
Selenium yeast - Antitoxidant and essential mineral
Copper gluconate - essential mineral for metabolism
Vitamin D3 - essential vitamin for bone and immune health
Vitamin A - essential vitamin

Made in: USA
Materials used: Only human-grade ingredients without dehydrated products
Materials sourced from: USA
Packaging materials: Recyclable Plastic #2
End of Life Management: Package can be recycled, remaining supplements can be composted.
Certifications: Veterinarian Approved
Our Vision
As animal lovers and sustainability advocates, we value kindness. Kindness towards our pets, each other, ourselves and most importantly our planet.
Not only are we committed to providing sustainable products, but we hope to build a community and support resource for those striving to make the world a kinder place.
We believe in a kinder, cleaner planet.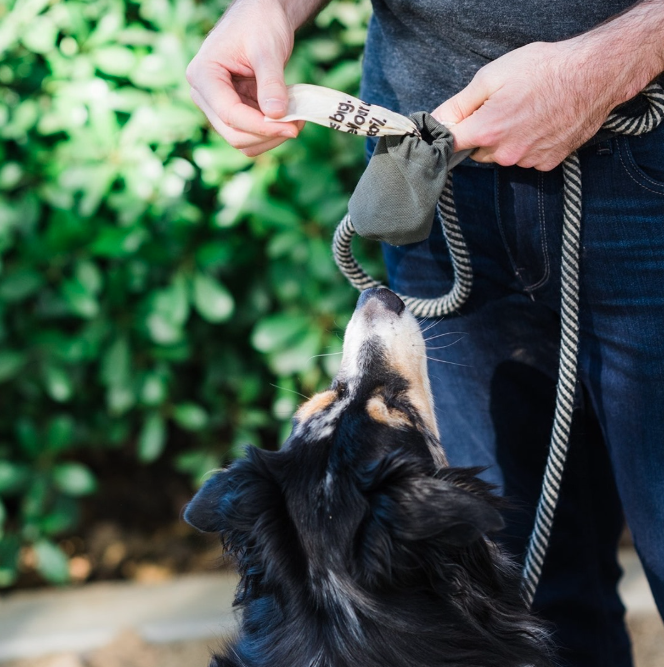 A Sustainable Community
Whether you're already a zero-waste enthusiast or just learning about how you can make a difference, The Kind Pet is here to provide resources, tips & tricks not only on pet care but lifetstyle as well.
Supporting Small Businesses
We select our products not only for their sustainability, but the people behind them. Many of the small businesses we work with are women or BIPOC-owned. Others work with local or international artisans.
At The Kind Pet, we are dedicated to not only promoting sustainability for the planet, but for diversity and inclusion as well.