For pet owners who are looking for compostable dog poop bags, look no further than these durable, no rip bags! These home certified compostable dog waste bags made from maize flour and vegetable oil help keep the planet safe while picking up after your pup!

Use them with the 100% cotton dog poop bag holder.
If you cannot compost, then we recommend these Oxo Biodegradable Poop Bags.
Features
Certified compostable and certified home compostable.

Made in the USA.
Made with maize flour and vegetable oil.
1 roll contains 15 bags.
Certifications
Certified Home Compostable (TUV Austria OK Compost HOME)
Certified Industrial Compostable (TUV Austria OK compost INDUSTRIAL)
USDA Certified Biobased Product (TUV Austria EN 13432)
Are you a composter?
For another fully compostable option, check out these Pooch Paper Poop "Bags". Always verify with your city about rules for composting pet waste and learn how to properly compost waste at home.
*Not for sale to the state of California due to recent product labeling regulations defining compostable items.
Made in: USA
Materials used: Maize Flour and Vegetable Oil with plant based binders.
Materials sourced from: USA
End of life management: Compostable & Biodegradable
Height: 13 inches (33 cm)
Width: 8 inches (20 cm)
Weight Capacity: 4.4 lbs
Our Vision
As animal lovers and sustainability advocates, we value kindness. Kindness towards our pets, each other, ourselves and most importantly our planet.
Not only are we committed to providing sustainable products, but we hope to build a community and support resource for those striving to make the world a kinder place.
We believe in a kinder, cleaner planet.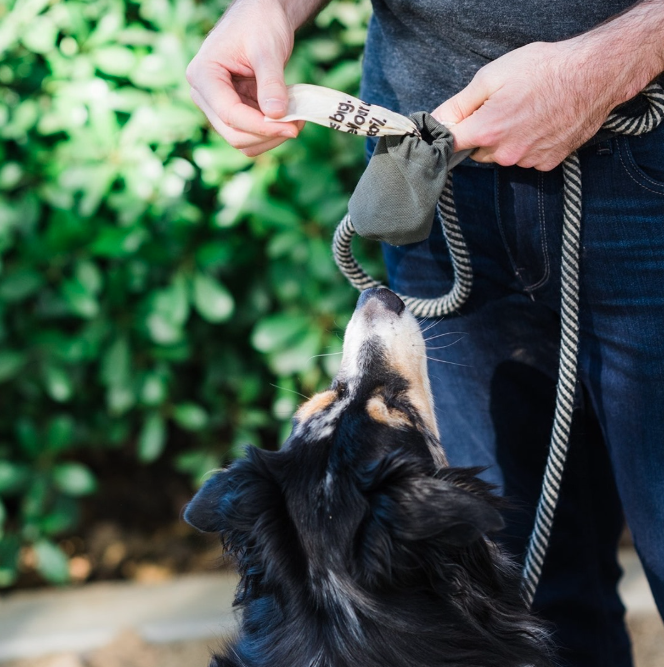 A Sustainable Community
Whether you're already a zero-waste enthusiast or just learning about how you can make a difference, The Kind Pet is here to provide resources, tips & tricks not only on pet care but lifetstyle as well.
Supporting Small Businesses
We select our products not only for their sustainability, but the people behind them. Many of the small businesses we work with are women or BIPOC-owned. Others work with local or international artisans.
At The Kind Pet, we are dedicated to not only promoting sustainability for the planet, but for diversity and inclusion as well.